Crescent Roll Chicken Pot Pie puts a delicious twist on traditional pot pie. With the flakiness of the crescent rolls and the creaminess of the chicken & veggie filling, you might need to make a double recipe!
Chicken Pot Pie with Crescent Rolls turns this delicious comfort food into a handheld dinner idea that kids love! Crescent Roll Chicken Pot Pie is made with rotisserie chicken, frozen veggies, and packaged crescent rolls, this dinner comes together quickly.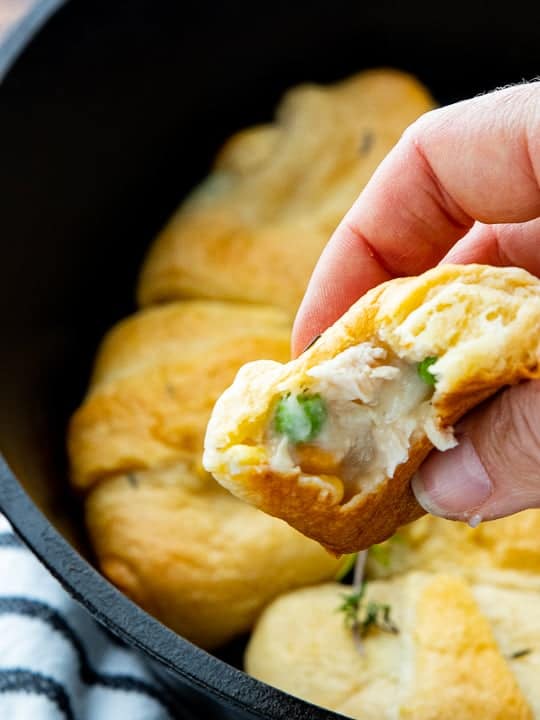 My favorite part about this dish is how simple and fast the recipe takes to make. In under 35 minutes, I can prep, bake, and serve a hot meal to my family.
The recipe can be cooked in one dish and then everyone can grab an individual pot pie. My kids love that they can hold the mini chicken pot pies while they eat. Best handheld comfort food in my opinion!
Ingredients
Crescent rolls: This is the base for the pot pie and will provide a flaky and buttery crust. If you prefer a gluten-free option, you can use gluten-free puff pastry dough as a substitute.
Diced chicken: Rotisserie chicken is often used in pot pie recipes for convenience and flavor. You can use leftover cooked chicken or cook and dice chicken specifically for this recipe.
Mixed vegetables: Frozen mixed vegetables are commonly used in pot pies and provide a variety of flavors and textures. You can find pre-packaged mixed vegetables in the frozen section of your grocery store, or you can mix and match your favorite vegetables such as carrots, peas, corn, and green beans.
Chicken broth: Chicken broth adds moisture and enhances the savory flavor of the filling. You can use store-bought chicken broth or homemade chicken broth.
Milk: Milk adds creaminess to the filling. You can use any type of milk you prefer, such as whole milk, low-fat milk, or plant-based milk like almond or soy milk.
Butter: Butter adds richness and flavor to the filling. It's used to make the roux, which thickens the sauce. You can use unsalted or salted butter, depending on your preference.
Flour: Flour is used to thicken the sauce and give it a smooth consistency. You can use all-purpose flour or a gluten-free flour blend if you need a gluten-free option.
Celery seed: Celery seed adds a subtle celery flavor to the filling. It's optional but can provide a nice depth of flavor.
These ingredients come together to create a creamy and flavorful filling encased in a flaky crust. Feel free to adjust the seasonings and vegetables according to your taste preferences.
How To Make
To prepare the creamy filling for your pot pie, start by melting the butter over medium heat in a saucepan. Once the butter has melted, add the flour to the saucepan and whisk them together until well combined. This mixture of fat and flour is known as a roux, which will help thicken the filling and give it a smooth texture.
Next, slowly pour in the chicken broth, adding it a little at a time while whisking continuously. This gradual addition prevents lumps from forming and allows the broth to incorporate smoothly into the roux. As you whisk, the roux will thicken and create a velvety base for the pot pie.
After incorporating the chicken broth, gradually pour in the milk while continuing to whisk. This addition adds a creamy richness to the filling. Keep whisking the mixture until the filling reaches a thick and creamy consistency.
Finally, add in the spices such as salt, pepper, and celery seed to enhance the flavor of the dish. These spices will provide a savory and aromatic touch to your pot pie filling. If you don't have celery seed on hand, you can omit it without compromising the overall taste. Adjust the seasonings to your liking, and your pot pie filling will be ready to use.
Now it's time to incorporate the chicken and vegetables into the filling. Using canned or rotisserie chicken is a great time-saving option, as it eliminates the need for extensive cooking. Alternatively, you can cook a whole chicken in the slow cooker and shred it to add to this dish, resulting in tender and flavorful meat. Stir the chicken and veggies into the creamy filling, ensuring they are evenly combined.
If you're following a gluten-free diet, you can substitute gluten-free puff pastry dough for the crescent rolls. This alternative will allow everyone to enjoy the pot pie, regardless of their dietary restrictions.
Before proceeding, it's a good idea to conduct a taste test. Take a spoonful of the filling and assess its flavor. Adjust the seasoning as needed to achieve the desired taste profile. This step ensures that the filling perfectly complements the rest of the dish and satisfies your culinary preferences. Once you're satisfied with the flavor, your filling is ready to be used in conjunction with the crescent rolls or puff pastry dough.
To assemble the pot pies, carefully stretch the crescent roll dough on its widest part and place 1-2 tablespoons of the chicken mixture onto it. Then, fold the sides of the dough over the chicken mixture, followed by folding the other end over to seal it shut. Repeat this process until all the crescents are filled and the filling is enclosed within the dough.
Once the pot pies are assembled, you can transfer them to an oven-safe skillet for baking. A cast iron skillet is an excellent choice for this recipe as it provides even heat distribution and can result in crispy and golden tops and bottoms for the crescents. Placing the pot pies in the skillet will ensure that they bake to perfection, creating a delightful combination of tender filling and crispy crust.
Bake for 18-20 minutes or until crescents are golden brown.
Once the crescent roll chicken pot pie pockets are golden brown, it is time to serve! This recipe is best served hot straight from the oven.
Tips and Tricks
Chicken pot pie is indeed a delicious comfort food, and turning it into a handheld dinner idea with crescent rolls is a fantastic way to make it more kid-friendly. Here are some tips and tricks to help you make a tasty Crescent Roll Chicken Pot Pie:
Season the filling: While the cream of chicken soup adds flavor, you can further enhance the taste by seasoning the filling mixture with herbs like thyme, rosemary, or parsley. Add a sprinkle of garlic powder or onion powder for extra flavor.
Sauté the vegetables: If you prefer a slightly softer texture for the frozen vegetables, consider sautéing them in a pan with a little butter or oil before adding them to the filling mixture. This step can help to remove excess moisture and intensify their flavors.
Add extra veggies: While the recipe calls for frozen mixed vegetables, you can add more variety and nutrition by incorporating fresh vegetables such as diced carrots, peas, corn, or green beans. You can blanch or steam them briefly before mixing them with the other ingredients.
Customize with spices: Feel free to experiment with additional spices and seasonings to suit your taste preferences. Consider adding a pinch of paprika, a dash of Worcestershire sauce, or a squeeze of lemon juice for added depth of flavor.
Brush with an egg wash: Before baking, you can give the crescent rolls a glossy and golden finish by brushing them with an egg wash. Beat an egg with a splash of water or milk and lightly brush it over the crescent rolls using a pastry brush.
Serve with dipping sauces: To make the handheld pot pies even more fun for kids, consider serving them with a variety of dipping sauces like ranch dressing, barbecue sauce, or honey mustard. It adds an interactive element and enhances the flavor.
Make-ahead and freezing options: If you want to prepare these pot pies in advance, you can assemble them and freeze them unbaked. Just wrap them tightly in plastic wrap or aluminum foil and place them in the freezer. When you're ready to bake, simply thaw them in the refrigerator overnight and bake as directed.
Reheating and Storage Instructions
Reheating Instructions:
Oven Method: Preheat your oven to 350°F (175°C). Place the desired number of pot pies on a baking sheet and cover them with aluminum foil to prevent excessive browning. Bake for about 15-20 minutes or until heated through.
Microwave Method: Place individual pot pies on a microwave-safe plate and cover them with a microwave-safe lid or microwave-safe plastic wrap. Heat on medium power for 1-2 minutes, then check for doneness. Continue heating in 30-second intervals until the pot pies are heated through.
Storage Instructions:
Refrigerator: If you have leftovers, allow the pot pies to cool completely before storing them. Place them in an airtight container or wrap them tightly with plastic wrap. They can be refrigerated for up to 3-4 days.
Freezing: To freeze the pot pies for later use, it's best to freeze them before baking. Wrap each unbaked pot pie tightly in plastic wrap, place them in a freezer-safe container or freezer bag, and freeze for up to 3 months. When ready to bake, thaw them overnight in the refrigerator before following the baking instructions in the recipe.
Note: It's important to reheat the pot pies thoroughly to an internal temperature of 165°F (74°C) to ensure food safety.
FAQ
DO I USE FRESH, FROZEN, OR CANNED VEGGIES?
You can use fresh, frozen or canned mixed vegetables, which is one reason I love this recipe. I typically use frozen veggies in my easy chicken pot pie recipe because there is no need to chop or defrost. However, if you have fresh vegetables in your fridge that are on the edge of going bad, this is the perfect time to use them in a recipe!

PRO TIP: If using fresh veggies, either chop them very small or give them a quick steam to soften them up.
Can you substitute pie crust for crescent rolls?
Yes you can! Cut the pie crust into squares, fill the center, wrap the dough around, and seal. Baking time may take longer.
Are crescent rolls and croissants the same thing?
Croissants are made with more butter and are richer and flakier.
Print Recipe
Crescent Roll Chicken Pot Pie
Chicken Pot Pie with Crescent Rolls turns this delicious comfort food into a handheld dinner idea that kids love! Crescent Roll Chicken Pot Pie is made with rotisserie chicken, frozen veggies, and packaged crescent rolls, this dinner comes together quickly.
Servings: 4
Calories: 396kcal
Ingredients
1 package crescent rolls For gluten-free use gluten-free puff pastry dough
1 cup cooked diced chicken
1 cup frozen mixed vegetables
2/3 cup chicken broth
1/3 cup milk
3 tablespoon butter
3 tablespoon flour or cornstarch
1/4 teaspoon salt
1/8 teaspoon pepper
1/8 teaspoon celery seed
Instructions
Preheat the oven. Preheat oven to 375 degrees.

Make the roux. Over medium-high heat, melt butter. Whisk in the flour. Slowly whisk the chicken broth into the flour mixture a little at a time, whisking the whole time, making a roux. Bring mixture to a simmer and then slowly whisk the milk into the roux. Stir in spices and add the mixed vegetables and chicken.

Fill the crescent rolls. Gently stretch the crescent rolls on the widest part and fill them with 1-2 tablespoons of the chicken mixture. Fold the sides over the chicken mixture, then fold the other end over the mixture, sealing shut. Continue until all crescents are filled. Place into an oven-safe skillet.

Bake. Bake for 18-20 minutes or until crescents are golden brown.
Video
Nutrition
Calories: 396kcal | Carbohydrates: 34g | Protein: 14g | Fat: 24g | Saturated Fat: 12g | Polyunsaturated Fat: 5g | Monounsaturated Fat: 5g | Trans Fat: 0.3g | Cholesterol: 52mg | Sodium: 857mg | Potassium: 224mg | Fiber: 2g | Sugar: 7g | Vitamin A: 2621IU | Vitamin C: 5mg | Calcium: 47mg | Iron: 2mg